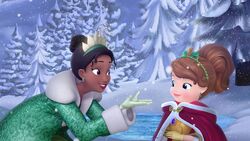 Princess Tiana is a Disney Princess who first appeared in the 2009 film The Princess and the Frog. She appeared in the episode "Winter's Gift".
Background
Tiana makes her first appearance in "Winter's Gift" where Sofia is assisting a young faun named Winter in breaking an icy curse that constantly brings harms to her friends and loved ones. In order to do so, the faun (named Winter) must present a gift to the choleric Glacia the Ice Witch, in hopes that she will break the curse in exchange for the gift provided.
After being informed of the dilemma by Mama Odie, Tiana arrived told Sofia that she was cooking a special meal as her perfect gift for her family and then sings the song "From the Heart", telling Sofia the perfect gift is one conjured from the heart, giving the young princess the idea on how to break the curse: That the gift should come from Winter's own heart.