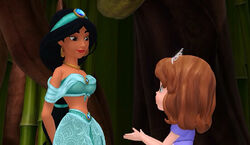 Princess Jasmine is the deuteragonist of Disney's 1992 animated feature Aladdin, its two sequels and animated TV series.
She is from the Middle Eastern kingdom of Agrabah and is the 6th official Disney Princess.
History
Jasmine makes a guest appearance in the episode "Two to Tangu". She appears in her new design. Jasmine helps Sofia and Amber tame a wild flying carpet by teaching them not to be afraid and sings a song called "The Ride of Our Lives" with them. She is the second Disney Princess to meet Sofia, the first being Cinderella.
Interestingly, while Jasmine sports her redesigned look, her old ponytail hair style that was sectioned into two (instead of the new regular-looking ponytail) is retained. This is more than likely because the previous hairstyle was easier to animate than the new free-flowing style.