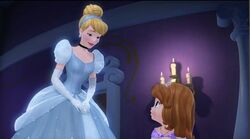 Cinderella is a Disney princess who first appeared in the classic movie Cinderella. In Sofia the First: Once Upon a Princess, she is summoned via the Amulet of Avalor to help Princess Sofia. She sings True Sisters and encourages her to make friends with her sister.
Assuming that the show is not ignoring the events of Cinderella II: Dreams Come True and Cinderella III: A Twist In Time, then Cinderella is from a point after the first film, but before she and Anastasia re-unite somewhat in Cinderella II: Dreams Come True. Cinderella helps Sofia hold hands.
Trivia
She is voiced by Jennifer Hale.
She is the first Disney Princess summoned by Sofia with her amulet.
Ad blocker interference detected!
Wikia is a free-to-use site that makes money from advertising. We have a modified experience for viewers using ad blockers

Wikia is not accessible if you've made further modifications. Remove the custom ad blocker rule(s) and the page will load as expected.