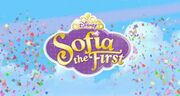 The following episodes of Sofia the First are listed in the order of their original airing.
The series premiered on January 11, 2013 on Disney Channel and Disney Junior while the series pilot movie Sofia the First: Once Upon a Princess premiered on November 18, 2012.On January 8,2014,the series was renewed for a third season by Disney Junior and then on April 14,2015,a fourth season. Season 4 premiered on April 28,2017.
Series Overview
Season
Episodes
Original airing (U.S. dates)
Season premiere
Season finale
Pilot
November 18, 2012
1
24
January 11, 2013
February 14, 2014
2
28
February 28, 2014
July 22, 2015
3
29
August 5, 2015
March 31, 2017
4
26[1]
April 28, 2017
September 8,2018
Television Movies
Title
Original air date
U.S. viewers

(millions)

"Sofia the First: Once Upon a Princess"
November 18, 2012
5.20
The pilot movie introduces Sofia and how she has to adjust to royal life after her mother marries King Roland II. With the help of Flora, Fauna, and Merryweather from Walt Disney's Sleeping Beauty, who are now in charge of the Royal Preparatory Academy, Sofia learns that looking like a princess is not all that hard, but behaving like one must come from the heart. She has the incredibly powerful magical Amulet of Avalor that grants her the ability to talk to and understand animals and summon her princess friends (The Disney Princesses from the previous films) in case she needs help with something, but the amulet is coveted by the evil sorcerer Cedric who wants its great magical power so he can use it to take over the kingdom as King Cedric the Great. She also has to deal with her mean, jealous stepsister Amber, whose attempts to ruin the ball and humiliate her land them both in hot water. Cinderella appears to help sort it out.

Disney Princess guest: Cinderella from Disney's Cinderella trilogy
Title
Original air date
U.S viewers

(millions)

"Elena and the Secret of Avalor"
November 20,2016
12.2
Sofia discovers the incredible mystery behind her amulet.Princess Elena from the kingdom of Avalor has been magically trapped inside Sofia's amulet for forty-one years,waiting for another Princess to set her free,and Sofia is up to the task!
No.
Ep.
Title
Original air date
Prod. code
U.S. viewers (millions)
1
1
"Just One of the Princes"
January 11, 2013
101
2.70
Sofia strives to become the first princess to earn a spot on her school's Flying Derby team. Although paired with the overly-anxious pony Minimus, Sofia learns to believe in herself and proves that a princess can do anything.
2
2
"The Big Sleepover"
January 18, 2013
102
2.14
Sofia is put in a difficult position when she struggles to get her village friends Ruby and Jade and her new princess friends to get along during her first slumber party at the castle.
3
3
"Let the Good Times Troll"
January 25, 2013
103
2.10
Sofia befriends the trolls that live in the cave near her new home, but trouble ensues when her father can't let go of his fear of their banging, even when she brings them to the castle.
4
4
"Cedric's Apprentice"
February 1, 2013
104
2.20
Cedric hires Sofia to be his apprentice in order to steal her amulet when she seeks his help to learn magic for school. Along the way, Cedric takes his first step towards the light when she soothes his stress.
5
5
"A Royal Mess"
February 8, 2013
105
2.49
When the Golden Wing Circus arrives on its annual basis, James is determined to go, but while performing a juggling trick, he breaks the glass window, his father is intending to show his wife as a gift, and James is afraid that he will be punished by being grounded from going, and his parents teach the kids a lesson about lying and telling the truth.
6
6
"The Shy Princess"
February 22, 2013
106
2.60
Sofia helps Vivian, a shy classmate to overcome her fear of speaking in public. Meanwhile, Clover makes friends with her dragon Crackle.
7
7
"Blue Ribbon Bunny"
March 15, 2013
108
2.01
Sofia decides to enter Clover in the Village Fair pet contest, but after pushing a little too hard, Sofia discovers a few things about friendship when she ends up unintentionally hurting his feelings before the contest.
8
8
"The Princess Test"
April 12, 2013
110
1.88
Sofia learns that helping others in need is the mark of a true princess.
9
9
"Baileywick's Day Off"
April 26, 2013
107
1.55
Baileywick celebrates his birthday with his elder brother Nigel, but keeps getting distracted because of James, Amber and Sofia.
10
10
"Tri-Kingdom Picnic"
May 17, 2013
109
1.69
It's the Tri-Kingdom picnic for the kingdoms of Enchancia, Wei-ling and Khaldune – and James really wants to win the Golden Chalice given to whichever of the teams from each kingdom wins the most games. Unfortunately, James' bad sportsmanship makes it hard to have fun.
11
11
"The Little Witch"
May 31, 2013
111
1.73
Sofia meets a lonely young witch named Lucinda in the village who is hexing the village children. Sofia attempts to correct Lucinda's behavior so she can be invited to a birthday party for Sofia's friend Jade.
12
12
"Two to Tangu"
June 14, 2013
112
2.18
Sofia and Amber visit the Kingdom of Tangu, and meet a very special kind of carpet. Unfortunately, Sofia and Amber get lost and must find a way to get to Tangu, with the help of Princess Jasmine

Disney Princess guest: Jasmine from Disney's Aladdin franchise

13
13
"Finding Clover"
June 28, 2013
113
2.66
Clover feels left out when Sofia has many new tasks to do and can't spend much time with him. Clover then decides to join a traveling magic act, but finds having a friend is better. Meanwhile, Sofia, her bird friends, Minimus and Crackle search for him.
14
14
"The Amulet of Avalor"
July 12, 2013
114
2.68
When Sofia loses her magical amulet, she loses the power to understand her animal friends. Sofia must now find her amulet – and the thief – before Cedric does.
15
15
"The Buttercups"
August 2, 2013
115
2.95
Sofia and her friends join the Buttercups, a Girl Scout-like group. Sofia uses Buttercup skills to prove that princesses can do things by themselves.
16
16
"Make Way for Miss Nettle"
August 23, 2013
116
2.21
Miss Nettle, a new fairy schoolteacher, arrives at Royal Prep. Sofia later finds out that Miss Nettle has an evil plot to steal an important spellbook from Flora, Fauna, and Merryweather.
17
17
"The Amulet and the Anthem"
September 13, 2013
117
2.16
Sofia is chosen to sing the Enchancian Anthem at the annual Harvest Festival. After she becomes a bit too boastful, Sofia's magical amulet bestows a curse on her, leaving her all croaked up. Belle makes a guest appearance, helping another royal manage pride.

Disney Princess guest: Belle from Disney's Beauty and the Beast franchise

18
18
"Tea for Too Many"
September 27, 2013118
118
1.50
Sofia hosts a Royal Prep tea party, but when Amber thinks her party should be as big as hers was, things turn more complicated. Sofia decides to have her party done her own way to which everyone thinks is charming, proving to Amber that adapting to different things isn't a bad thing.
19
19
"Princess Butterfly"
October 11, 2013
119
1.78
Amber tries to use a magic spell to top Sofia's costume for the All Hallow's Ever costume contest.
20
20
"Great Aunt-Venture"
October 25, 2013
120
1.73
Sofia's meets her step aunt Tilly. Together they go a wonderful adventure to collect apples for Tilly's famous apple pie for a family dinner. Along the way she discovers what it means to be a great adventurer!
21
21
"The Baker King"
November 8, 2013
121
1.81
Sofia helps King Roland see how important his job is as king after he yearns to live a more simple life as a baker. when he is convinced by Sofia he decides that it's time to go back to being king.
22/23
22/23
"Sofia the First: The Floating Palace"
November 24, 2013
122/123
4.70
Sofia's family go on a royal vacation to Merroway Cove, where Sofia befriends a mermaid princess named Oona. The Amulet of Avalor transforms Sofia into a mermaid, allowing her to explore Oona's world. Determined to get Oona's enchanted comb, Cedric turns himself into a sea monster and kidnaps Oona, triggering a confrontation between the merpeople and Sofia's family. Sofia goes on an underwater quest to find Oona and restore the friendship between humans and merfolk.

Disney Princess guest: Ariel from Disney's The Little Mermaid franchise

24
24
"Holiday in Enchancia"
December 1, 2013
124
1.19
A storm keeps King Roland from arriving home for the Wassailia holidays, so Sofia and her family try to find him. Unfortunately, they get stuck in a blizzard along with a village man with his family. With the help of the animals, and Aurora, they find their father, and spend Wassailia together.

Disney Princess guest: Aurora from the Walt Disney film Sleeping Beauty

25
25
"Four's a Crowd"
February 14, 2014
125
2.43
Sofia invites Ruby and Jade to join her and Amber in the annual Flylight Pageant. At first, it seems like fun, but then Ruby and Jade start ignoring Sofia when they start having fun with Amber.
No.
Ep.
Title
Original air date
Prod. code
U.S. viewers
(millions)
26
1
"Two Princesses and a Baby"
February 28, 2014
202
1.91
James gets turned into a baby when a spell that is supposed to give him and Amber separate birthdays goes haywire.
27
2
"The Enchanted Feast"
April 4, 2014
201
1.49
A wicked fairy tries to trick Sofia, but Snow White appears and teaches Sofia to trust her instincts when she suspects someone is not who they claim to be.

Disney Princess guest: Princess Snow White from the Walt Disney film Snow White and the Seven Dwarfs

28
3
"The Flying Crown"
April 11, 2014
203
1.55
Sofia teaches Prince Hugo the meaning of teamwork when they are paired in a flying derby race.
29
4
"Mom's the Word"
April 25, 2014
204
1.92
Sofia gets disheartened when she has to share her mom with Amber and James during the annual Mother's Day picnic, so she asks good witch Lucinda to cast a spell so she and her mom can be alone.
30
5
"The Silent Knight"
May 9, 2014
205
1.62
Sofia meets her hero, a brave but silent knight, and helps him accept his unique voice so he can woo her Aunt Tilly.
31
6
"Enchanted Science Fair"
May 30, 2014
206
2.28
Sofia and her friends get overly competitive when they work on a project for an enchanted science fair.
32
7
"King for a Day"
June 27, 2014
208
2.32
James is made king for a day and gets carried away finding fun solutions to royal problems.
33
8
"When You Wish Upon a Well"
July 11, 2014
207
2.62
Sofia is accidentally turned into a cat when a jealous Amber stumbles upon a wishing well and makes a wish that Roland would become allergic to Sofia.
34
9
"Gizmo Gwen"
July 25, 2014
209
Sofia encourages a young kitchen maid to pursue her dream of becoming an inventor.
35
10
"Sofia the Second"
August 1, 2014
210
2.49
Princess Sofia uses a copying spell so she can be in two places at once but her copy is a troublemaker! Will Sofia be able to handle her nasty copy before she causes too much trouble?
36
11
"Mystic Meadows"
August 8, 2014
213
2.08
Sofia visits a retirement home for sorcerers, and helps Cedric earn his family's powerful wand and his father's respect.
37
12
"Princesses to the Rescue!"
August 15, 2014
212
2.48
Sofia, Amber and Princess Jun work together to rescue their fathers and brothers who are trapped in a jaguar's den. Princess Mulan gives the trio some strategic advice.

Disney Princess guest: Mulan from Disney's Mulan

38
13
"Ghostly Gala"
October 3, 2014
211
1.49
Sofia prepares for a Halloween party in the ballroom and discovers a ghost trying to scare everyone out of the castle so he can throw his own ghostly gala.
39
14
"The Emerald Key"
October 11, 2014
215
2.38
Sofia finds a valuable emerald key and must figure out who it belongs to when two girls arrive and both claim they are the rightful owners.
40
15
"Scrambled Pets"
October 17, 2014
214
1.44
Sofia and her friends regret their decision to bring their pets to school after Clover and the rest of the animals get scrambled in a sorcery class accident.
41
16
"The Princess Stays in the Picture"
October 24, 2014
216
1.44
When Sofia and Hildegard become stuck inside an enchanted painting, Hildegard complicates their escape plan by insisting she knows everything.
42
17
"Baileywhoops"
November 7, 2014
219
1.72
A new castle steward puts a curse on Baileywick in an attempt to take over his job.
43/44
18/19
"Sofia the First: The Curse of Princess Ivy"
November 23, 2014
217/218
3.56
Amber inadvertently summons an evil princess, Ivy, who tries to take over Enchancia, after discovering that Sofia's amulet is magical. Rapunzel appears and tries to help Sofia and Amber stop Ivy.

Disney Princess guest: Rapunzel from Disney's Tangled

45
20
"Winter's Gift"
December 12, 2014
222
1.66
Sofia helps a young faun named Winter who has been cursed by an ice witch.

Disney Princess guest: Tiana from Disney's The Princess and the Frog

46
21
"The Leafsong Festival"
January 16, 2015
220
1.41
When Crackle gives up her ability to breathe fire so that she can sing in the Leafsong Festival, Sofia helps her learn to take pride in what makes her special instead of trying to change it.
47
22
"Substitute Cedric"
February 20, 2015
221
1.94
Cedric steps in as a substitute teacher for Sofia's sorcery class and helps students at Royal Prep protect their school from a group of visiting pranksters out to wreak havoc.
48
23
"Clover Time"
March 27, 2015
224
1.60
Clover's warren gets flooded so Sofia invites him to stay with her, but their very different habits cause friction in their friendship.
49
24
"In a Tizzy"
March 27, 2015
227
1.67
Sofia's friend Ruby teams up with an over-eager fairy godmother and learns that a little assistance is nice but sometimes you have to do things on your own.
60
25
"A Tale of Two Teams"
March 27, 2015
225
1.48
A game of dazzleball pits the villagers against the royals and puts Sofia in a difficult spot. She must decide whether to play with her old friends or her new family.
50
26
"The Littlest Princess"
July 1, 2015
226
2.00
Sofia rescues three sprites and her amulet gives her the power to grow small and then big again whenever she likes. But when she disobeys her mom she loses the ability to grow big again.
52
27
"Buttercup Amber"
July 8, 2015
228
1.92
Amber agrees to go on a overnight hike with Sofia and the Buttercups despite her distaste for the outdoors and ends up saving the day when the rest of the troop is trapped by a swamp monster.
53
28
"Carol of the Arrow"
July 15, 2015
229
1.77
When Sofia meets her idol, Carol of the Arrow, and joins her merry band of do-gooders, she learns that there are many different ways to help people.
54
29
"Sidekick Clio"
July 22, 2015
230
1.73
Clio helps Sofia practice for the upcoming school musical auditions, but Sofia recognizes that Clio is talented in her own right and encourages her to audition too.
No.
Ep.
Title
Original air date
Prod. code
U.S. viewers
(millions)
55
1
"Cool Hand Fluke"
August 5, 2015
302
1.55
Sofia returns to the underwater kingdom of Merroway Cove where she is reunited with her mermaid friend Oona and meets a new mer-boy named Fluke.
56
2
"Minimus is Missing"
August 12, 2015
223
When Minimus and the rest of the flying horses of Enchancia go missing, Sofia and Amber discover they have been lured into a dangerous trap by a young warlock and set out to rescue them.
57
3
"Cedric Be Good"
September 18, 2015
307
1.10
Cedric steals Sofia's amulet and is repeatedly cursed by the gem, until he realizes that it's powers are only granted by acts of kindness.
58
4
"Princess Adventure Club"
September 25, 2015
308
1.33
When Princess Zooey, a new student at Royal Prep, starts a Princess Adventure Club to make friends and invites all the princesses to join except Amber, Sofia helps her realize its not nice to exclude others.
59
5
"Minding the Manor"
October 2, 2015
305
1.49
When Sofia is left in charge of her Aunt Tilly's house, she must protect it from a group of invading gargoyles.
60
6
"The Secret Library"
October 12, 2015
310
2.03
Sofia unlocks a secret world and is appointed the storykeeper of magical books.

Disney Princess guest: Merida from Disney/Pixar's Brave

62
7
"New Genie on the Block"
October 16, 2015
301
1.52
During a trip to the Kingdom of Tangu, Sofia accidentally releases a kid genie from a lamp who causes chaos throughout the kingdom.
63
8
"The Fliegel Has Landed"
October 23, 2015
306
1.26
When an bossy fliegel threatens Sofia's troll friend Gnarlie, Sofia must show him how to stand up for himself.
64
9
"The Princess Ballet"
November 1, 2015
311
2.40
When Sofia invites Princess Kari to perform ballet at Royal Prep's open house, she struggles to learn the steps and Sofia must help Kari realize that its okay to not be perfect at everything.
65
10
"All the Sprite Moves"
November 6, 2015
303
1.45
Princess Vivian is upset about her family's move to a new castle and enlists Sofia' Wee Sprite friends to help sabotage the move by making it seem like the new castle is cursed.
66
11
"Sofia in Elvenmoor"
November 13, 2015
309
1.06
Sofia and Clover discover and enchanted land of elves.
67
12
"Stormy Lani"
November 20, 2015
313
1.07
Sofia discovers that her friend, Princess Lani, has the power to alter the weather according to her moods.
68
13
"Lord of the Rink"
December 4, 2015
231
1.23
Prince Hugo is hesitant to pursue his interest in ice dancing because he thinks it's a sport just for girls.
69
14
"The Secret Library: Olaf and the Tale of Miss Nettle"
February 15, 2016
318
Sofia tries to stop Miss Nettle from stealing all the snowdrop flowers from Freezenberg, but the wicked fairy puts a curse on Sofia's amulet that takes away her ability to talk to animals.
70
15
"Gone with the Wand"
March 4, 2016
314
Cedric's niece steals Merlin's magic wand and summons an arch-enemy who wants to keep the wand for herself.
71
16
"Bad Little Dragon"
March 11, 2016
319
1.21
After Sofia and Vivian find an adorable baby dragon in the woods, they discover he's not as innocent as he first appears.
72
17
"Bunny Swap"
March 25, 2016
312
Clover and a wild bunny mistakenly switch places, which forces Clover to rediscover his wild side so he can find his way home.
73
18
"Her Royal Spyness"
April 8, 2016
321
1.27
Amber and Sofia learn an important lesson about not spying on others after a peek through Amber's telescope deceives them into thinking that their mother is in danger.
74
19
"Best in Air Show"
May 6, 2016
320
Grand Mum comes to visit Enchancia and Sofia helps Minimus muster the confidence to perform a bold stunt routine in his parents' flying horse show.
75
20
"Dads and Daughters Day"
June 17, 2016
304
When Sofia's class goes on a father-daughter trip to the Enchanted Animal Park, Sofia wonders if she truly belongs since Roland is her step-dad.
76
21
"The Tale of the Noble Knight"
July 1, 2016
323
When Sofia visits The Secret Library, she learns The Tale of A Noble Knight seeking the Ice Fire Shield.
77
22
"The Bamboo Kite"
July 8, 2016
325
While on a trip to Wei-Ling, Sofia attends the Festival of Kites where Princess Jun has the honor of launching the first kite this year.
78
23
"Beauty is the Beast"
August 12, 2016
322
When Sofia's amulet summons her to help Princess Charlotte of Isleworth, she must break an enchantress' curse that turned Charlotte into a beast.
79
24
"Cauldronation Day"
October 7, 2016
324
Sofia must keep Lucinda's witch friends from ruining her Cauldronation Day.
80
25
"Camp Wilderwood"
October 28, 2016
327
When James gets homesick at Camp Wilderwood, he and Wendell create a plan to escape.
81
26
"Royal Vacation"
November 11, 2016
328
Miranda plans a family vacation so everyone can spend quality time together, but everything goes awry.
82
27
"Hexley Hall"
January 6, 2017
326
0.81
When Sofia notices that her amulet is changing, she enlists Cedric's help to discover why.
82
28
"The Princess Prodigy"
February 10, 2017
330
1.27
Sofia becomes concerned after she learns that Princess Vivian's music teacher plans to magically steal Vivian's musical talent.
83
29
"One for the Books"
March 31, 2017
329
1.13
A new school year begins for Sofia and her classmates, and when she realizes that her classmate Desmond has difficulties, she helps him to get along.
No.
Ep.
Title
Original air date
Prod. code
U.S. viewers
(millions)
84
1
"Day of the Sorcerers"
April 28, 2017
401
0.76
After a secret meeting of sorcerers, Cedric must choose between taking over the kingdom and maintaining his friendship with Sofia.
85
2
"The Secret Library: Tale of the Eternal Torch"
May 5, 2017
402
The secret library sends Sofia on a mission to help the dragons of the Blazing Palisades defend their home against invading sea serpents. Problems arise when James gets involved on her expedition, but his harsh attempt at heroics puts him in a heated situation.
86
3
"The Crown of Blossoms"
May 12, 2017
403
Two gnomes arrive in Enchancia to recover their lost Crown of Blossoms, which has been given to Sofia to wear during the kingdom's annual Planting Festival.
87
4
"Pin the Blame on the Genie"
May 19, 2017
404
After Kazeem the genie is accused of wreaking havoc in Tangu, Sofia sets out to prove his innocence.
88
5
"Sofia the First: The Mystic Isles"
June 24, 2017
405/406/407
When Amber discovers Sofia's role as Storykeeper, she demands to come along on Sofia's next mission to the Mystic Isles.
89
6
"The Mystic Isles: The Princess and the Protector"
June 30, 2017
409
Sofia meets her protector trainer, a feisty crystal fairy named Chrysta, and travels to the Isle of Forever Frost to begin her first assignment.
90
7
"The Royal Dragon"
July 21, 2017
91
8
"The Mystic Isles: The Mare of the Mist"
August 4, 2017
92
9
"Through the Looking Back Glass"
August 18, 2017
93
10
"Princess Jade"[2]
September 1, 2017
94
11
"Ivy's True Colors"
September 29, 2017
417
95
12
"Too Cute to Spook"[3]
October 13, 2017
411
96
13
"Pirated Away"
October 20, 2017
97
14
"The Mystic Isles: The Falcon's Eye"
October 27, 2017
98
15
"The Mystic Isles: The Great Pretender"[3]
November 3, 2017
99
16
"The Mystic Isles: A Very Mystic Wassailia"
December 1, 2017
100
17
"The Birthday Wish"[3]
January 5, 2018
101
18
"In Cedric We Trust"
January 26, 2018
102
19
"The Mystic Isles: A Hero for the Hoodwinks"[3]
February 17, 2018
103
20
"The Mystic Isles: Undercover Fairies"
March 2, 2018
104
21
"A Royal Wedding"
May 14, 2018
105
22
"The Royal School Fair"
May 15, 2018
106
23
"The Lost Pyramid"
May 16, 2018
107
24
"Return to Merroway Cove"
May 17, 2018
108
25
"The Elf Situation"
May 18, 2018
109
26
Forever Royal
September 8,2018
References