Enchancia
is the major kingdom in the series
Sofia the First
. It is where the majority of the show takes place. The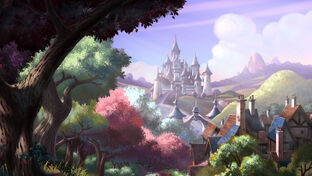 king of Enchancia is
King Roland II
, and he rules it along with his family.
Enchancia appears to be a European-based area, primarily wooded, with a village before the royal castle. It's a kingdom from Iberic peninsula and is populated with hispanic people.
The Enchancian crest is a white flying horse on a red and blue backdrop.
Locations
Castle
The princess/prince suite has a window seat, reading nook, canopy bed, playing area, a closet large enough to hold thousands of outfits and accessories (Sofia only has seven crowns, the most recent being Amber's Derby tiara), and a bell rope to ring for service. Sofia, Amber, and James all have differently decorated suites, but their room structures are all roughly identical. However, Amber and Sofia have multiple armoires that they use to hold their books in, while James uses a bookshelf.
There are two sets of gardens that may be connected. One set is the garden in front of the palace, which is built up of small bushes and plants, some of which are used by Cedric in his potions. It contains vegetable plots used by the servants and Clover. The second is a large maze of hedges behind the castle, where Sofia has a secret garden that she uses for private time when not in her bedroom.
This world is full of winged horses, the first of which Sofia has ever seen personally pull the flying carriages to and from the Royal Preparatory Academy.