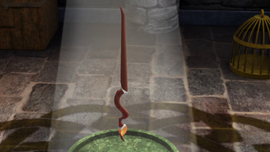 The Dragonclaw Wand is a magic wand that appears in the Sofia the First episode "Gone with the Wand".
Background
The Dragonclaw Wand is Merlin's most powerful possession. He used it to defeat his archenemy Morgana the evil Enchantress. Cedric's niece Calista took it while she was visiting his tower with her uncle and Sofia. Morgana appeared and stole it from her. She tried to use it, but it was protected with a charm. Morgana took it to her fortress to figure out how to break the charm.
Ad blocker interference detected!
Wikia is a free-to-use site that makes money from advertising. We have a modified experience for viewers using ad blockers

Wikia is not accessible if you've made further modifications. Remove the custom ad blocker rule(s) and the page will load as expected.