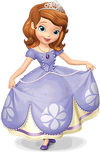 Hi!~ I'm Sofia.
This page is a collection of userboxes, small beautiful colored boxes designed to appear on your Disney Wiki user page as a fun way to know about the yourself or to show things that you like. You are free to make your own and add them here into this page.
But...these are used for fun purposes and only to be used on your own Profile Page, and you should never use these anywhere else but your own Profile Page. If I find that you do not follow just this one rule, I will give you the first warning. After that, if you violate again...Baileywick will probably contact the higher authoristies of this website and have them deal with you.
By the way, remember that Userboxes are to be used as YOUR and everyone else's opinion. Please don't message the creator of the Userbox if you disagree with it. Doing so is against the Royal policy.
Have fun, everyone!
All items (10)